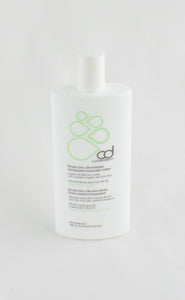 100ml
-Ultra protective sunscreen with 25% zinc oxide
-Fluid and light-weight hydration
-Good option for anyone with a history of skin cancer or hyperpigmentation including melasma. 
By popular demand, The Sunscreen Company that created the popular tinted Simply Zinc Ultra SPF 50  has come out with this untinted version. Made with 25% zinc oxide, all mineral SPF silky and feather-light protection. This fluid format delivers the essential protection against UVA and UVB light and has one of the highest UVA Protection Factors of 20 of any mineral option. This formula contains no added water and is the newest innovation in luxury oils in SPF. It contains Norwegian Spruce Extract for a powerful anti-oxidant to help prevent the signs of aging.
Application: Used as your last step in your AM skincare routine. Give it a good shake before using. Apply  liberally to the entire face, neck, ears and don't forget the nose!
**Recommended application and frequency on product package. 
Asgard Notes: Being a full mineral SPF 50, it may leave a slight white hue.  If you would like a sample of this before committing to it let us know by contacting us at: info@asgardbeauty.com  
Medicinal Ingredients: (w/w) 25% Zinc Oxide*
Non-Medicinal ingredients:
Caprylic/Capric Triglyceride*, Coco Caprylate/Caprate*, Polyglyceryl-3 Polyricinoleate*, Isostearic Acid*, Polylactic Acid*, Coconut Alkanes*, Sodium-Phospho-Magnesium Silicate, Carthamus Tinctorius (Safflower) Oleosomes*, Water, Picea Abies Extract, Propanediol*, Titanium Dioxide, Stearic Acid, Alumina, Cerium Dioxide, Silica, Aluminium Hydroxide, Polyhydroxystearic Acid.
This sunscreen was created under the guidance of a dermatologist who oversaw that this formula meets the most stringent clean beauty standards. It's vegan, cruelty-free, fragrance free and free from essential oils. There is no need to compromise when choosing a daily SPF option. Aesthetics, performance , effectiveness and safety-you can have it all.
MADE IN CANADA