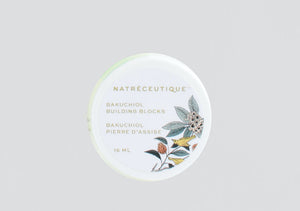 15ml
Do we call it a cream or a serum? Why not both!
Great for:
Aging gracefully (We all age and it's a beautiful thing so instead of 'anti' we say graceful )  
Acne or blemish prone skin
Barrier support that has a boost of a powerful serum
Improving skin texture (with regular and consistent use)
Brighter, more even tone
Looking to keep your skincare routine simple but concentrated 
Formulated with Bakuchiol, that has been shown to improve the signs of aging in the skin and its overall appearance, while being more gentle than retinol. Most skin types should able to use it every day without having to manage dryness and irritation (but please start slow and be gentle with your skin!) 
Key ingredients:
Bakuchiol: Improves signs of aging similar to retinol but with less negative effects
Vitamin C (

Tetrahexyldecyl Ascorbate)

: Evens skin tone and boost collagen production 
Phytosphingosine SLC: Supports your skin barrier by mimicking ceramides
Salicylic acid: Helps dig deep into your pores to help improve skin texture
With Bakuchiol taking over the skincare world and understandably so! The Sunscreen Company wanted this Natrèceutique product to be a concentrated corrective product that packs a punch and reinforces the building blocks of the skin, all while supporting the integrity of your natural barrier.
Natrèceutique Bakuchiol Building Blocks, not only has bakuchiol but has an oil-soluble version of Vitamin C, Tetrahexyldecyl Ascorbate. It has been shown to have better stability than its water-soluble counterpart both in the formula and on the skin (yay for brighter more even skin and good bye hyperpigmentation and sun spots!). It is possible to combine both ingredients without any resulting irritation because of their gentle yet effective nature and stability.
But of course, The Sunscreen Company went above and beyond to make this cream-serum the ultimate natural skin refining product by adding two other  ingredients that will help refine your skin. One of those ingredients is an innovative and skin refining ingredient called Phytosphingosine SLC. Phytosphingosines mimics the skin's own ceramides, to help heal and support your skin barrier. This ingredient is coupled with salicylic acid to improve the texture and overall appearance of the skin. This innovative cream-serum has simple, concentrated and effective ingredients that are the foundation of any good skincare routine and is unlike anything available.
As always, The Sunscreen Company creates formulas that include no essential oils, fillers or fragrances. It represents the best in a curated, clean clinical formula.
Ingredients:
Caprylic/Capric Triglyceride, Hydrogenated Vegetable Oil, Bakuchiol, Tetrahexyldecyl Ascorbate, Polyglyceryl-3 Polyricinoleate, Salicyloyl Phytosphingosine
MADE IN CANADA - VEGAN